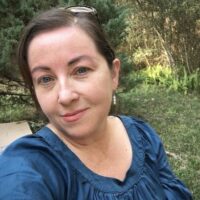 Jenny Hughes
Training Specialist
Jenny Hughes is a Training Specialist at Biotility with a broad portfolio of experience in science education, academic and private sector research, and regulatory compliance in both start-up and international biotech companies. Jenny worked in academic, agricultural and biotech labs for more than 10 years prior to joining Biotility.
Jenny earned a B.S. in Botany with a minor in Chemistry from the University of Florida (UF) and joined a biotech startup, first as a Research Associate and later a QC Analyst. She then transitioned to academic research and earned a M.Ag. in Plant Molecular and Cellular Biology from UF's College of Agriculture. She has taught high school Biology and Biotech I, II, and III and has managed the Science for Health Programs lab at Santa Fe College and the Forest Pathology lab in the UF School of Forest Resources & Conservation (now FFGS). Doubling as Biotility's Production Lab Manager, she also oversees practical lab experiences, and is pleased to share her expertise as a Training Specialist with industry professionals, early career biotechnicians and bioscience educators.
Fun fact: Jenny's first job in high school was working in a stained glass studio making kaleidoscopes.