Certificate Short Courses
25% discount on live courses for students and postdocs!
Biotechnician Assistant Credentialing Exam
What is the BACE?
The Biotechnician Assistant Credentialing Exam (BACE) is an industry-recognized exam designed to assess core skills and knowledge sets identified by industry, and represented within the academic and performance standards of Biotechnology programs. The exam was originally vetted by the state of Florida's industry organization, BioFlorida, which represents more than 3,000 companies and research organizations in the biotechnology, pharmaceuticals, medical devices, and bioagriculture sectors. Since its creation, BACE has been assessed by national and international companies as other states (and other countries) adopt the exam.
Fastest Growing Jobs in Biotechnology
| Biotechnology Career | Career Description | Jobs |
| --- | --- | --- |
| Genetic Counselors | The BLS has projected a 30 percent increase in the demand for genetic counselors from 2014 to 2024. The majority of genetic counselors work in hospitals. The majority of them work in hospitals. The typical educational requirement for a genetic counselor is a master's degree after some sort of life science or medical bachelor's degree, often nursing. According to Salary.com, the median salary for a genetic counselor is $69,957, ranging from about $63,164 to $77,849.  | Jobs |
| Biomedical Engineers | These engineers combine engineering with medical and biological sciences, usually to design and construct equipment, devices, computer systems and software used in healthcare. There are often bachelor's programs in biomedical engineering. According to the BLS, the median pay is $85,620 per year and the job growth outlook is much faster than average, at 23 percent. | Jobs |
| Laboratory Technologists/Technicians | A technician position may require completion of a rigorous secondary program in biotechnology or biomedical science, or a two-year associate's degree. A technologist position may require a four-year bachelor's degree, sometimes with a year's practical internship on top of it. There's been a shortage of medical technologists for at least the last 20 years and isn't expected to decrease as the general population ages. The majority of medical laboratory technologists and technicians work in healthcare laboratories at hospital laboratories or large commercial clinical diagnostic companies, although there are also positions in physician office laboratories. According to Salary.com, the average annual salary for an ASCP-certified medical technologist is $66,108. BLS lumps technicians and technologists into the same category, with a median salary of $50,930. However, it does suggest that the technician salary is typically $38,950. | Jobs |
| Biophysicists/Biochemists | These positions are usually at the PhD level. Biophycisists merge physics with the biological scientists. According to the BLS, biophysicists have an average annual salary of $87,640, with the top 10 percent earning over $147,320. A biochemist, rather obviously, studies biochemistry, which is to say, the chemistry of living organisms. Salary.com indicates that the median annual salary for a Biochemist I is $50,516, although it's necessary to point out that this refers to people with a bachelor's degree in biochemistry. For a PhD, the U.S. Department of Labor indicates the highest earning PhDs exceed $100,000 per year. | Jobs |
| Epidemiologists | An epidemiologist applies statistical analysis to diseases in human populations. They are broadly called public health professionals, although there are academic positions as well, and there is a significant crossover these days in data science and bioinformatics. According to the BLS, the median pay for an epidemiologist is $70,820, requires a master's degree, and from 2014 to 2024 is growing at about the average rate of 6%. | Jobs |
| Microbiologists | This can be a rather broad field, although it generally focuses on bacteria, fungi and viruses. It also requires a broad background in human cell biology and molecular biology. The BLS projected a 4 percent increase in demand between 2014 and 2024. Most positions call for a minimum of a bachelor's degree. There are positions in clinical diagnostic laboratories, academic and industrial research laboratories, and in public health laboratories. According to the BLS, the median pay for a microbiologist—probably with a bachelor's degree—is $66,850.  | Jobs |
Source: Bureau of Labor Statistics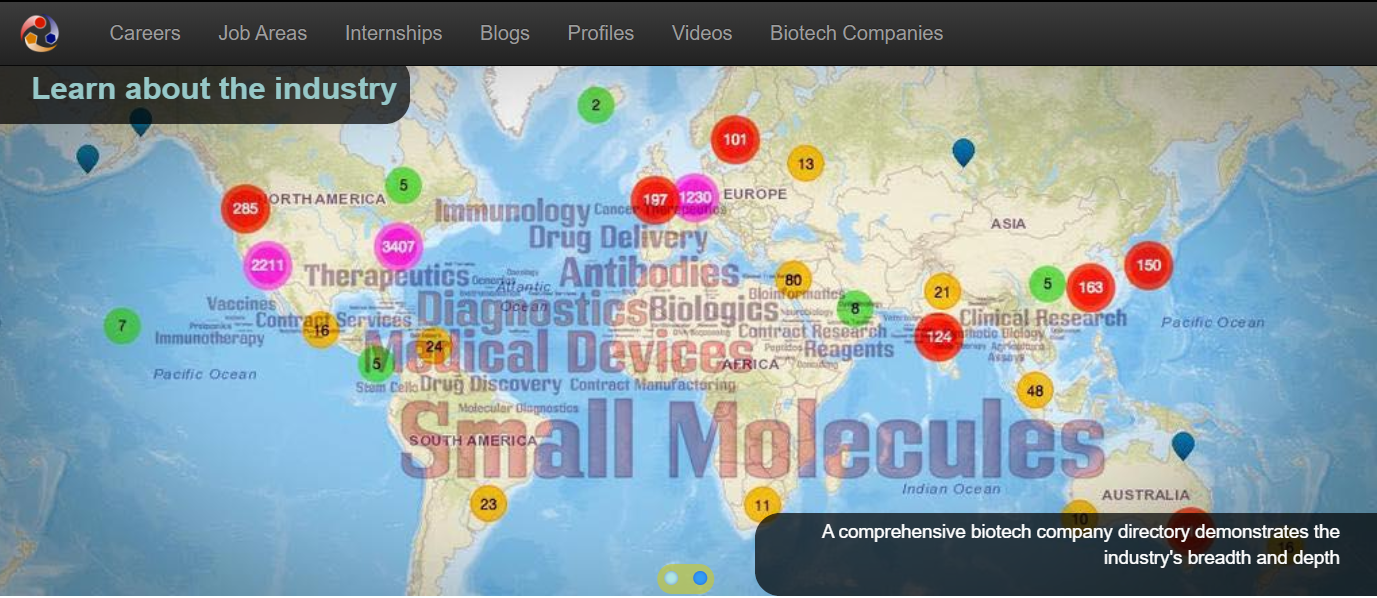 Want to know more? Visit Biotech Careers, an in-depth database of information about the biotech industry organized around careers, job areas, internships, stories & blogs, work experiences, and biotech companies.