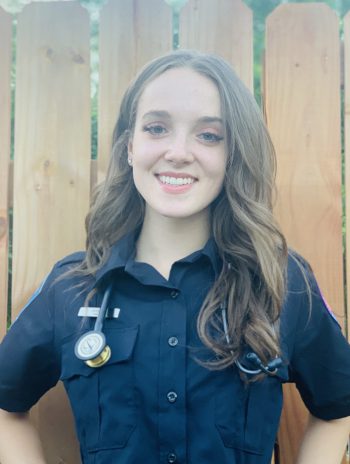 Organization: American Medical Response/Big Horn County Ambulance
Position Title: Paramedic
My name is Hannah Pearson! I live in Billings Montana. I am a full time Paramedic both for the city of Billings and a county south of here. I have an Associates of Science degree. I have lived in Montana my whole life and while I love it here, the thought of living somewhere warmer sounds fantastic. I am currently working in Billings to become a Physician's Assistant and to specialize in Emergency Medicine in low resource and rural areas. For fun I'll do anything outdoors including riding, biking, running, and swimming!
Earning the BACE credential has helped me substantially in my career path by setting me up for success. From the beginning I was ahead of my peers, as a result of the credential, and had a strong foundation to be successful in anatomy and physiology as well as working in a healthcare/lab setting. It gave me the confidence and experience to power through and to successfully become an EMT, later a Paramedic, and future a PA. I see the difference between the background knowledge of my peers and myself even today, 3-4 years after going through the BACE program. I am so thrilled that I obtained the credential while in high school.
My day to day job duties involve responding to 911 calls in either a rural 5,000 square mile response area or a more heavily populated 2,600 square mile response area. I use anatomy and physiology as well as pathophysiology to make quick decisions in extremely time sensitive situations in either medical or trauma calls. We use the minimal resources we are given to create an Emergency Room or ICU in a box on wheels that is traveling quickly on roads over bumps, heavy traffic, and gravel roads with just one other person whose priority is getting all of us to the hospital quickly and safely. I intubate, give around 50 different medications, and defibrillate or cardiovert as well as many other high acuity interventions in high stress and uncontrolled environments.
One thing I love about my job is the opportunity I am given to create a small difference in one person's life every day. I make it a point to learn one thing from each incredible patient I meet.