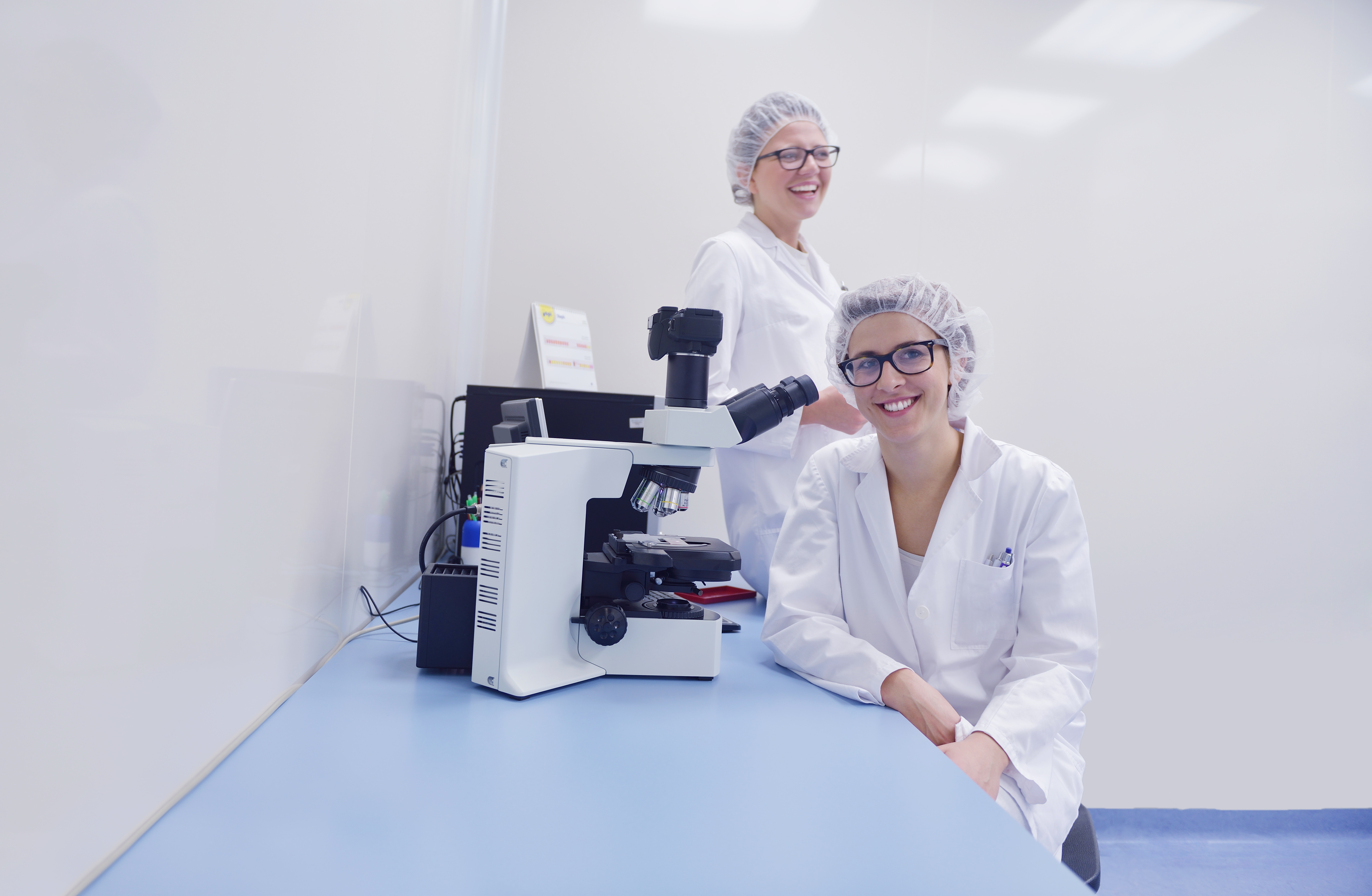 Biotility Prepares Scientists of All Ages for the Biotechnology Industry
Written by: Erica Brown, Business Magazine Gainesville
Students, employees and teachers nationwide can develop hands-on industry experience in biotechnology through programs with Biotility at the University of Florida's Center of Excellence for Regenerative Health Biotechnology's Education Center located in Progress Park in the city of Alachua.
When Biotility began in 2006, it received funding from the National Science Foundation and CareerSource Florida to create programs on different levels to help build the workforce for Florida's biotech industry, said Tamara Mandell, assistant director of Biotility.
"These were two different funding sources for different sets of students that ended up complimenting one another incredibly well," Mandell said.
Biotility offers courses to entry-level and mid-career workers, as well as secondary and post-secondary teachers and students.
Professional Training Programs
From the beginning, CareerSource Florida tasked Biotility to develop short courses specific to the biotechnology industry to help build the workforce based on industry input.
Mandell said Biotility conducted focus groups across the state to ask: What are the skills most employers look for while hiring for an industry position?
"Most employers said Florida was already rich in academic talent; however, they didn't have people who knew how to work in a regulated industry. Or, in other words, when we're making a product that's going to go into a human, there's oversight by the Food and Drug Administration that you have to work under to be compliant," she said.
These courses are designed for people who either work in the industry or want to make a career change within or into the industry.
Dr. Jeffrey Tate, president and CEO of CTD Holdings Inc., said he uses Biotility's training programs to teach his employees about manufacturing and documentation practices as well as general biotechnology procedures.
According to Tate, there are several benefits to working with Biotility. Having a knowledgeable, authoritative third-party to deliver messages and content to employees provides more creditability to the company's work, he said, adding that Biotility's training schedule works well with busy business schedules.
Biotility also provides a certificate to course participants who successfully complete training, which serves as proof to regulatory authorities that company employees are properly trained.
"We began working with Biotility almost immediately after being situated in our current location," Tate said. "I've sat on panel discussions and have recommended Tamara's programs more than once."
Educational Training Programs
At the same time Biotility was creating the industry short-courses, they also led the development of Florida's secondary program in Industrial Biotechnology. "Because we already had the industry input, we were able to integrate similar concepts into the framework for the high school program," Mandell said.
Mandell said Biotility has been recognized by the U.S. Department of Education for developing a program that prepares students for college and careers. The Industrial Biotechnology program currently includes more than 1,200 students from 13 different high schools throughout Florida.
Nancy Iafrate, a teacher specialist for the Career and Technical Education Department for Alachua Country Public Schools, said that from the beginning, Santa Fe High School was one of the schools to include a high-school component for students to have an opportunity to study biotechnology and make it a possible career path.
"The one thing about having the program at Santa Fe High School is that we have Biotility, Santa Fe College and UF right around the corner," Iafrate said. "Everything is perfectly within our reach."
Iafrate said the program includes state-of-the-art equipment, internships and endless hands-on experience.
"Whatever we need, Biotility's doors are always open for us — it's been a great partnership," she said.
When high school students participate in these courses, they can earn career and technical education credit as well as academic science credit, Mandell said. They also have the opportunity to earn the industry-recognized "Biotechnician Assistant" credential, and college credit.
Mandell said Biotility not only supports this high school component, it also offers training for teachers, undergraduate, and graduate students, and professionals.
The Future of Biotility
Mandell said Biotility will always stay relevant to industry needs and will continue to develop curricula as the biotech industry grows.
"Mature is a key word," Mandell said. "I say that because over 50 percent of Florida's companies are still in the start-up phase, and as they continue to grow and develop departmental roles, the training needs will become more specified as well."
Dr. Richard Snyder, director of Biotility, said he established the education center because he wanted to start training and graduating students who have skills to enter into the workforce or enhance their careers to go into product development and other associated activities.
Snyder said the organization tries to bring awareness to all levels of future and professional scientists in terms of directing their skills, scientific backgrounds and laboratory skills to focus on application and product development.
"Together, Tamara and I have grown the reach of the education center and the establishment of Biotility," Snyder said. "We're developing a local workforce that's capable of supporting company growth and helping companies achieve their goals. In the future, we want to take that success and do what we've done in Florida to model and eventually spread nationally."
Tamara Mandell, assistant director of Biotility, said she wears many hats at Biotility. This also includes the many hats of the people she has helped throughout the years.
"I've always loved science — I'm just curious by nature," Mandell said. "I always knew that science was somehow going to factor into my career, and at the same time, I've always loved teaching and education. So, when the position opened up here, I knew it was the perfect marriage of what I wanted to do."
Mandell said that while she is immersed in science, she is also able to develop curricula, teach programs, interface with the education and industry, serve on advisory boards and be involved with making policies.
From the beginning, Mandell said she has watched students time and time again grow from timid freshmen to seniors capable of demonstrating complex techniques far beyond their years. She has also watched professional students take courses and achieve their dream jobs.
"From my heart, I wanted to create opportunities for students to inspire them to be something more and give meaning to learning science," Mandell said.
One of those students is Joseph Harp, who took a professional training course at Biotility and is now a lab technician at Florida Biologix.
"I signed up to take three classes," Harp said, "and I only ended up taking two because Tamara had signed me up for an interview by the second class."
Harp said that although the classes gave him a complete understanding of what to expect going into a biomanufacturing company, Mandell had helped him beyond academia.
"She's amazing," he said. "Tamara took me under her wing, and she helped me get to where I am today."