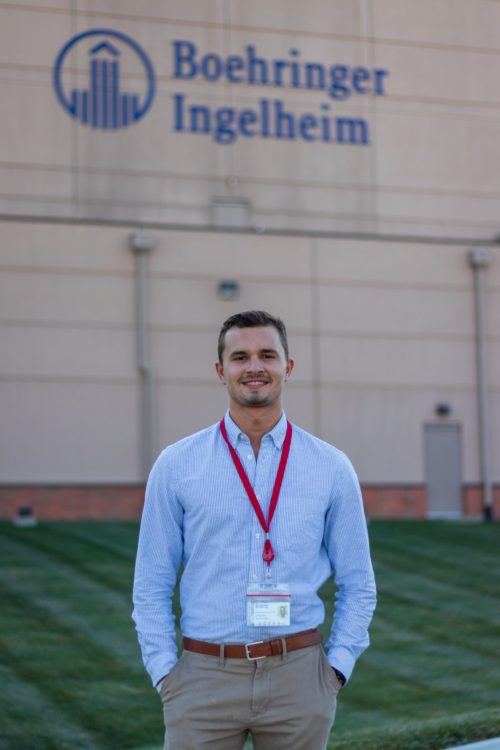 Organization: Boehringer Ingelheim
Position Title: Quality Control Technician
I completed my BACE credential in 2017 at Pace High School in Pace, Florida. After graduating, my BACE credential helped me tremendously in securing a research position at Mississippi State University working in a pathogenic microbiology laboratory. The combination of my credentials, grades and research experience landed me a position at Boehringer Ingelheim in St. Joseph, Missouri working as a quality control technician. This position was a 6-month co-op, so I was only there for one summer + semester to gain experience and boost my resume during college, although I could have stayed on full time if I decided to. While there, I worked in the Immunology department and later transitioned to the Bacteriology department testing vaccines for quality, efficacy and safety. I'm in my last year at MSU now, and have started a new position in the chemistry department studying beneficial soil fungus for agricultural ecosystems. I plan to attend graduate school and continue my biotechnology career!
Earning the BACE credential set me apart from other students and applicant. I believe that I would not have gotten my first research position if it weren't for my experience from BACE. I was working with upperclassmen and graduate students as a freshman and still had more experience than a few of them. My credential also showed that I was invested in the field of Biotechnology and was willing to put in the work needed to kickstart my future career. Although I was never told this, I doubt many other applicants were BACE earners, so I'm sure it stood out on my resume and application. Earning the BACE credential helped me to get a head start on my career and gave me great opportunities that I am so grateful for.
At Boehringer Ingelheim, I worked in two departments - Immunology and Bacteriology. While in Immunology I performed serological assays like ELISAs to test experimental, in-process and finished product vaccines. Most of my testing was for vaccine potency and I reported my results to my team, production and R&D. In Bacteriology, I also tested bacterial vaccines for potency and efficacy, but also ran many contaminant assays. This included water testing for microbial contaminants, endotoxin testing and identification of microbes. Throughout my term I would regularly analyzed data and also helped the assay development team develop new techniques. It was great getting immersed into a highly regulated industry and I learned so much about the different regulatory agencies that govern the industry.
The best thing about my job was the comradery amongst us. I had the privilege of working with highly experienced, passionate individuals who were always there to help and offer advice.