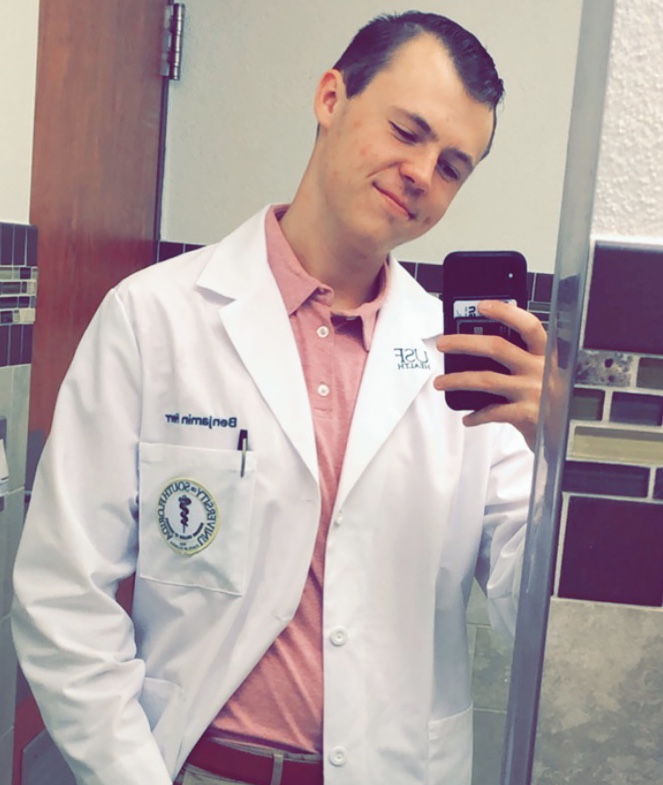 Organization: University of South Florida Morsani College Of Medicine /Moffitt Cancer Center
Position Title: OB/GYN Cancer Researcher & Infusion Clinic patient assistance (Moffitt)
During High school, I was working as a cashier at Dunkin' Donuts, while doing a Cancer Research study through one of the BACE programs of my 4th year of High School. I lead this study through vigorous red flags and success was able to purchase and grow live cancer cells in which I made my own extraction technique, and testing method from a derived resin. With help from Kishan Patel and Connor Geer, I was able to get into labs people could dream of. Following high school I was able to secure as position and many certifications at the Morsani College of Medicine as an OB/GYN Cancer Researcher (at 18 years old). Following months of work under a Doctor who gave me a chance I was offered to work at CVS in which I now work as a Lead Pharmacy Technician.
The BACE helped me gain a wide variety in medical information in which (at the time) might've sounded like too much but as a now Junior in college at 19 I can say this program gives you the ability to walk into, almost, any lab & hospital setting and develop a sense of what is going on in order to pursue other careers. When given the opportunity to work in the USF Med Schools Research facility under the OB/GYN department, my Lead Doctor was able to give me the ability to get accredited as a Clinical Research with the list of certifications below: Protecting Human Research Participants )NIH) Biosecurity and Biosafety (CITI) Human Research and Human Trials (CITI) Biomedical Investigation and Personnel (CITI) Biomedical Responsible Conduct of Research (CITI) Clinical Research & Social and Behavioral Research Best Practices for Clinical Research (CITI) Guideline research for DNA and Cancer Disparities (CITI) This gave me the ability to formally do cancer research.
At CVS Pharmacy, I work directly under the Pharmacist/PharmD on staff to ensure medications, and written & digital prescription are typed up and filled in a very timely manner. This in addition to various controlled prescription inventory work that requires myself (In which gained through CVS) to be a Registered Pharmacy Technician. At Morsani College of Medicine under the OB/GYN department, after being reached out for Cancer Cell Lines, I was given the opportunity as an Independent Researcher to assist him as well gain experience conducting lab procedures such as RNA Isolation, Cell Culturing, Western Blotting, Bioanalyte preparation, QPCR, and preparation and research for a new Clinical Trial. I have been trusted to work on my own solo projects (under a general topic) and have had very little to no errors made since then. These projects have consisted of turning tissue samples into cell lines, growing/culturing these cells, testing different RNA inhibitors & isolating RNA sample.
Working in a cancer research lab is incredible in the how much I am able to do and test. Working under a surgical physician to help find the real source of their cancer to give them the best treatment