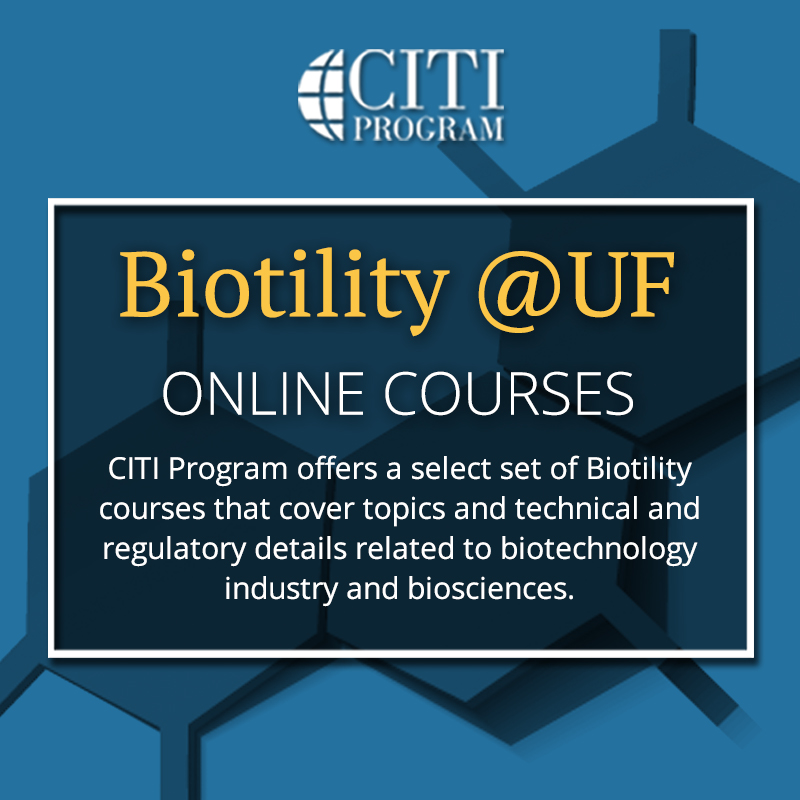 CITI Program and Biotility at UF Announce Partnership
May 11, 2022
The Collaborative Institutional Training Initiative (CITI Program), the leader in online research, ethics, and compliance training, and Biotility at the University of Florida announced an exclusive licensing agreement to offer select Biotility's biotech training courses on CITI Program's learning platform.
"CITI Program's 20+ years of experience in online learning is an excellent platform for Biotility's suite of courses aimed at students interested in the biotech industry," says Paddy Mullen, CEO of BRANY, which owns CITI Program. "The courses are an excellent addition to our catalog and an enormous benefit to CITI Program subscribers."
Biotility courses are designed for professionals and students preparing to enter industry careers, as well as by researchers—all of whom seek to expand and deepen their knowledge in technical and regulatory details unique to biotechnology industries and translational research.
Some of the initial courses include Corrective Action Preventive Action (CAPA), Good Documentation Practices (GDP), Regulatory Approval for Medical Devices, and cGMP for Dietary Supplements. Learners completing courses will receive a certificate from Biotility powered by CITI Program.
"The University of Florida has utilized the CITI Program for over 18 years to train its students, physicians, and researchers. Offering Biotility's training courses through CITI is a natural fit," says Tamara Mandell, M.Ed., Director for the Education and Training Programs at Biotility. "We are thrilled to bring our online courses to CITI Program's global subscribers."
CITI Program's modular learning management system allows for extensive customization by institutions while allowing learners to transfer completion credits across subscribing organizations.
"Our subscribers, both individual learners and institutional, have access to a comprehensive catalog of peer-reviewed courses," says Bharat Krishna, Managing Director of CITI Program. "Biotility offers equally compelling courses designed by professionals with extensive experience in global medical device and pharmaceutical product development."
Biotility was founded in 2006 to prepare emerging workforce talent and advance incumbent employees for success in the bioscience industry.
"Biotility functions at the intersection of academia and industry and offers a perfect complement to CITI Program's robust catalog of research, ethics, and compliance content," says Jim O'Connell, Assistant Vice President of Commercialization and Director of Tech Transfer at the University of Florida.
The Biotility courses are available on the CITI Program platform as of April 2022. More details at: https://about.citiprogram.org/series/biotility-at-the-university-of-florida/.
---
ABOUT CITI Program
CITI Program (citiprogram.org) is a worldwide leader in online education that serves over a million and a half students a year and 2,700+ global institutions. Founded in 2000, the CITI Program provides peer-reviewed education and training to academic medical centers, higher education institutions, hospitals, life science, and digital health companies. CITI Program is a division of BRANY.
ABOUT Biotility
Biotility (biotility.research.ufl.edu) at the University of Florida provides high-quality education and training to facilitate the professional growth of professionals, students, and researchers. The courses help participants prepare to enter biotechnology industry careers and expand and deepen their knowledge in technical and regulatory details unique to biotechnology industries and translational research.