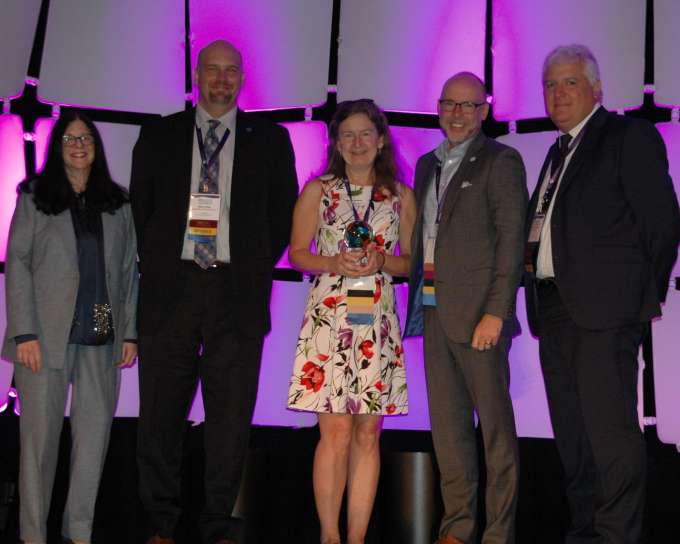 Biotility's Mandell Wins BioFlorida Award
Congratulations to Tamara Mandell, Director of Biotility at the University of Florida's Center of Excellence for Regenerative Health Biotechnology.  Mandell was awarded a BioFlorida Leadership Award at BioFlorida's Annual Conference in Tampa.
"She has a passion for bridging the gap between industry and education, and leads UF Biotility's efforts to develop workforce talent via direct industry training, certificate short courses for individuals transitioning from academic to industry positions, and workforce credentialing via the BACE," a news release from BioFlorida said.
Biotility is part of the CTSI's Translational Workforce Development Program.
Mandell has served as Co-Chair of the BioFlorida Northeast Chapter for the last four years, volunteering her time to organize and execute chapter events in the Gainesville-Alachua area. She has been instrumental in engaging undergraduate and graduate students and increasing their participation on the BioFlorida Northeast Chapter Leadership Team. Mandell also serves on BioFlorida's Celebration of Biotechnology Planning Committee and is an active participant in BioFlorida Day at the Capitol and the DC Fly-in.
BioFlorida is the voice of Florida's life science industry, representing 6,200 establishments and research organizations in the biopharmaceutical, medical technology, and bioagriculture sectors that collectively employ 87,000 Floridians. At the conference, BioFlorida recognized individuals and organizations for their outstanding achievements across four distinct categories. The BioFlorida Leadership Award recognizes the BioFlorida volunteer who has taken on a leadership role within the organization, dedicated significant time to BioFlorida's mission and has acted as a true ambassador to BioFlorida and the industry. Mandell was one of two Leadership Award recipients this year.