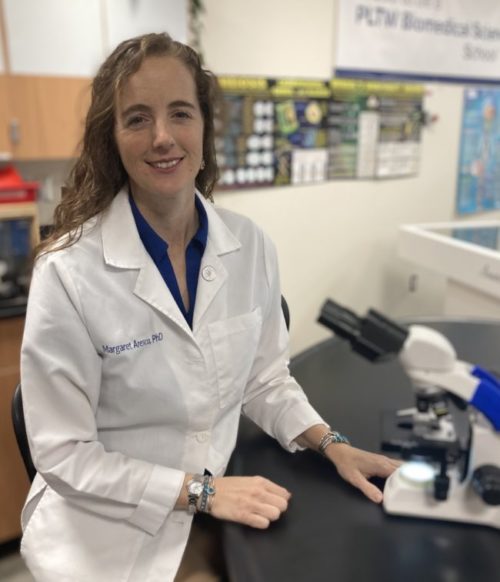 BACE Credential Earner: Margaret Aresco, PhD
---
---
Name:

Margaret Aresco, PhD

 

Organization:

Magnet Innovation Center
(Walton County, Florida)

Position:

Instructor

 
> About Me:
Dr. Aresco received her BS from Auburn University and her PhD from Florida State University. Her research focused on amphibians and wetland ecosystems. She has taught biology, botany, zoology, astrobiology, chemistry, and biomedical sciences at the collegiate and high school level for 14 years. She is currently the biology and biomedical science instructor at the Magnet Innovation Center, a STEAM high school in Walton County, Florida.
> Academic Program:
The Magnet Innovation Center is a STEAM high school that offers students specialized training in engineering, biomedical science, and digital design. The Biomedical Science program is conducted through Project Lead the Way, including their Principles of Biomedical Science, Human Body Systems, and Medical Interventions courses. Students who complete the three-year program, along with Biology and Chemistry courses, are eligible to take the BACE their senior year.
> Content Area:
Educating high school students about the diversity of career options in biomedical science is such a rewarding experience. Many students have considered being a doctor or a nurse, but they are excited to learn about the options for research science in the biomedical field, including genetic analysis, pharmaceutical development, and diagnostic testing.
> Success Story:
The biomedical science program at the Magnet Innovation Center is growing every year. This program began in 2021 with 20 students and enrollment has already more than doubled to 42 students.
---
Discover More Featured BACE Credential Earners